Posts for tag: tooth decay
By Tatiana Ostanina
January 05, 2021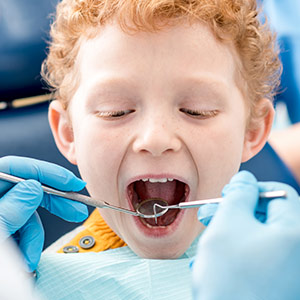 Tooth decay can be a big problem for children's primary (baby) teeth. It doesn't take long for a tooth to become infected and the infection spread to their neighbors.
But since it will eventually give way to a permanent tooth, why not just pull a diseased primary tooth? Although that sounds sensible, there are important reasons for helping a troubled primary tooth survive to its natural end.
Current usefulness. They may not be around for long, but primary teeth serve children well while they have them. They enable a child to eat solid foods to further their physical development. They also figure prominently in speech development, which could be stunted by lost teeth.
The smile factor. Young children are also honing their social skills, and smiling is an important part of learning to fit in with family and friends. A tooth that's missing for some time, especially in the "smile zone," could affect their smile and have an adverse effect on their social development.
Future teeth health. A primary tooth reserves the space intended for the future permanent tooth, helping to ensure the incoming tooth erupts in the right position. If it's not there, however, other teeth can drift into the space, crowding the incoming tooth out of its proper alignment.
That last reason could have the most long-term effect, causing the development of a poor bite that could require extensive orthodontic treatment. To avoid this and any other physical or social consequences accompanying its premature loss, it's worth the effort to try to protect and save a primary tooth.
Preventively, we can apply sealants on biting surfaces more prone to plaque buildup (the main cause of decay) and topical fluoride to strengthen enamel. When decay does occur, we may be able to remove it and fill the tooth, cap a tooth with a steel crown, or even use a modified root canal procedure in the case of advanced tooth decay.
The best way, however, to protect your child's primary teeth is to brush and floss them every day. Removing harmful plaque vastly reduces the risk of tooth decay. Coupled with professional dental care, your child can avoid tooth decay and get the most out of their primary teeth.
If you would like more information on children's dental care, please contact us or schedule an appointment for a consultation. You can also learn more about this topic by reading the Dear Doctor magazine article "Importance of Baby Teeth."
By Tatiana Ostanina
June 25, 2019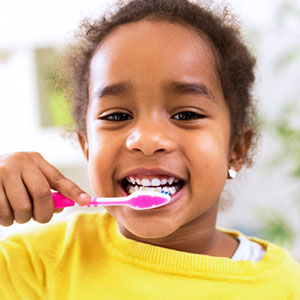 While dental diseases tend to be a greater concern as we get older, they also pose a potential threat to children. A particular type of tooth decay called early childhood caries (ECC) can severely damage children's unprotected teeth and skew their normal dental development.
Fortunately, you can protect your child's teeth from disease with a few simple practices. First and foremost: start a hygiene habit as soon as possible to remove disease-causing bacterial plaque. You don't have to wait until teeth appear, either: simply wipe the baby's gums with a clean wet cloth after nursing to minimize the growth of oral bacteria.
When their teeth do begin to erupt, you can switch to brushing (you can add flossing as more teeth erupt—but until the child shows appropriate dexterity, you'll need to do it for them). For infants, brush gently but thoroughly with a soft-bristled brush and a smear of fluoride toothpaste. When they grow older you can increase the toothpaste to a pea-sized amount. And as soon as you can, get them involved with learning to perform these vital habits on their own.
You should also limit your child's consumption of sugar. Our favorite carbohydrate is also a favorite of bacteria, who consume any remnants in dental plaque as a primary food source. So, keep sugary snacks and foods to a minimum and limit them mainly to mealtimes. And don't put a baby to sleep with a bottle filled with a liquid containing sugar (including formula and breastmilk).
Finally, begin taking your child to the dentist regularly by their first birthday for routine cleanings and checkups. Besides removing any hard to reach plaque, your dentist may also apply sealants and topical fluoride to help protect and strengthen tooth enamel. Regular visits make it more likely to detect the early signs of decay, before it does extensive damage. And beginning early makes it less likely your child will develop a fear of dental visits that could carry on into adulthood.
These and other steps will go a long way in protecting your child's teeth and gums so they develop normally. A little prevention and protection will help ensure a happy, healthy smile later in life.
If you would like more information on helping your child develop healthy teeth and gums, please contact us or schedule an appointment for a consultation. You can also learn more about this topic by reading the Dear Doctor magazine article "Top 10 Oral Health Tips for Children."
By Tatiana Ostanina
April 06, 2019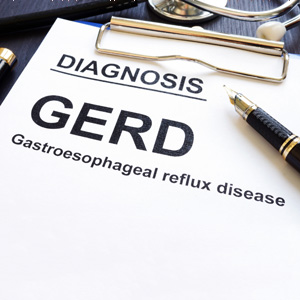 Most dental problems arise from tooth decay and periodontal (gum) disease. But they aren't the only source of danger to your teeth—gastroesophageal reflux disease (GERD) could be just as damaging to your tooth enamel as dental disease.
GERD usually occurs when a ring of muscles at the top of the stomach weaken, allowing stomach acid to enter the esophagus. This resulting acid reflux can make life unpleasant and pose potential health dangers—over time it can damage the lining of the esophagus and cause ulcers and pre-cancerous cells. It can also erode tooth enamel if acid enters the mouth and raises its level of acidity.
This can be a problem because acid can soften and dissolve the mineral content of tooth enamel. This is the primary cause of tooth decay as acid produced by oral bacteria attack enamel. The more bacteria present, often thriving in dental plaque, the higher the potential levels of acid that can damage enamel. Stomach acid, which is strong enough to break down food, can cause similar harm to enamel if it causes higher than normal acidity in the mouth.
There are some things you can do to protect your teeth if you have GERD, namely manage your GERD symptoms with lifestyle changes and medication. You may need to avoid alcohol, caffeine or heavily acidic or spicy foods, all known to aggravate GERD symptoms. Quitting smoking and avoiding late night meals might also ease indigestion. And your doctor may recommend over-the-counter or prescription drugs to help control your acid reflux.
You can also boost your teeth's enamel health by practicing daily brushing and flossing—but not right after a reflux episode. The enamel could be softened, so brushing can potentially remove tiny particles of mineral content. Instead, rinse with water mixed with or without a little baking soda to help neutralize acid and wait about an hour—this will give saliva, the mouth's natural acid neutralizer, time to restore the mouth's normal pH level.
And be sure you're using a fluoride toothpaste. Fluoride strengthens enamel—in fact, your dentist may recommend topical fluoride applications to boost the effect.
These and other tips can help minimize the effects of GERD on your dental health. With an ounce of prevention, you can keep it from permanently damaging your teeth.
If you would like more information on managing your dental health with GERD, please contact us or schedule an appointment for a consultation. You can also learn more about this topic by reading the Dear Doctor magazine article "GERD and Oral Health."